Welcome to HoneyStitches!
Do you have a box of your kids' clothes stashed away in the attic for safe keeping? Perhaps your little one has just outgrown their baby clothes and you are getting ready to put them away or pass them on, but just can't seem to take that step? 
Have you lost a loved one and held on to some of their clothing to remember them by?
Maybe you have a collection of t-shirts you never get a chance to wear anymore, but remind you of many adventures or wild nights?
Then you should probably Keep Reading...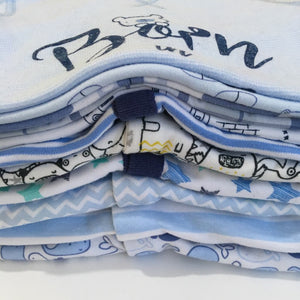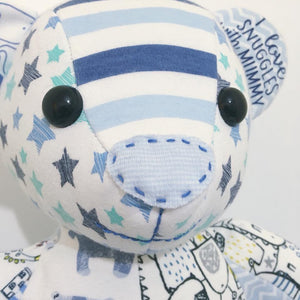 Some pieces of clothing are more than just clothes.
Our clothes have such a powerful connection to our memories. Just holding your child's first babygrows can bring you right back to those first moments of brand new life and that amazing newborn smell; and the favourite shirt of a loved one you've lost can remind you of a special time you spent together.
Having a Keepsake made from these treasured pieces of clothing is the perfect way to bring them to life again, and have memories you can literally hold on to and bring with you wherever you go.
Each HoneyStitches' Keepsake is made with love and care here in my studio in Co. Donegal, Ireland. 
What My Customers have to say
I'm so delighted with my 3 memory bears made from our boys baby clothes. I absolutely love & will treasure them forever. I highly recommend, such amazing detail and excellent work. Thank u x

Doreen Byrne
Wow our bear arrived this morning and we could not be happier! My husband and I both cried it was so amazing! Thanks so much for creating such a special bear with our son's favourite clothes from his first year and being such a pleasure to deal with. I fully recommend this five star service!

Jean Daly Lynn
Melissa is amazing with her creations. I would put 110% trust in her with my most sentimental items. The care & thought that go into her work is outstanding. She listens to her customers and definately does not disappoint. It's beautiful and quite emotional to see the finished product. A uniquely talented lady and a great service to have locally.

Catherine A. Coyle
Thank you so much for my beautiful memory cushions for my family . 5 beautiful cushions made out of our daddy's shirt which I kept for 17 years . Melissa you have made a very special Christmas for all of us . You are a fantastic special lady thank you from the bottom of our hearts.

Geraldine McBride